JOIN THE UNDISPUTED LEADER
If you're ready to use your sales and management experience in a dynamic business environment, contact JAN-PRO today.
QUICK FACTS
Ranked #1 Commercial Cleaning Franchise for the past TWO YEARS in a row - Entrepreneur magazine, 2013, 2014.
Ranked #1 Fastest-Growing Franchise, #1 Homebased Franchise and #1 Low-Cost Franchise! - Entrepreneur magazine, 2014.
Ranked a Top 50 Franchise, Franchise Business Review, 2014.
Top 50 Low-Cost Franchise, USA Today, 2014.
Recession-resistant industry, unaffected by swings in the economy.
Nationally recognized brand.
World-class support system.
Over 100 Master offices supporting over 10,000 franchisees.
WHO WE ARE
JAN-PRO is an Executive business opportunity. With over 100 regional Master offices and 10,000 unit franchisees, JAN-PRO provides you with all the benefits of a successful brand: a national reputation, proven processes and a support system that continues to drive our rapid growth.
We offer you an opportunity to put your blue chip management and sales skills to work building and managing a successful business of your own. Forget the misconceptions you might have about the commercial cleaning business. As a JAN-PRO Master Owner, you won't be doing the actual cleaning. Your success is all about using your executive skill set to succeed with a company and industry that works!
PROFIT FROM OUR GROWTH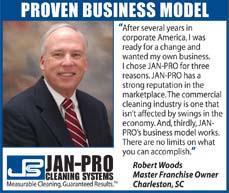 After ten years of explosive growth and success, it's easy to see why we're ranked the fastest-growing franchise in the world for three years in a row. At JAN-PRO our success is built upon our commitment at every level of the company…from strong management to customer service and operational support.
BE ANOTHER JAN-PRO SUCCESS STORY
Many experienced executives search long and hard for the perfect business opportunity. We award Master Territories to very few. If our system matches your goals and expectations as well as your family and lifestyle, we know how to make you successful.
IS A JAN-PRO MASTER OPPORTUNITY RIGHT FOR YOU?
- Do you have extensive sales and management experience?
- Do you have a passion for business and customer service?
- JAN-PRO is the perfect opportunity to build your own business and control your destiny.
An investment of $150,000-$500,000 gets you in the door. A desire to succeed in a dynamic business environment will secure your future.
FINANCING AVAILABLE
JAN-PRO Cleaning Systems, as the world's fastest growing franchise for three straight years, offers the ability for prospective franchise owners to attain initial franchise fee financing directly from the company. With proven success and processes, financing will enable the right individual to realize their dreams of business ownership.
THE FUTURE
There's never been a better time to join JAN-PRO. Our industry, and JAN-PRO in particular, has thrived over the past decade. Commercial cleaning is a $48 billion fragmented industry in the US, projected to grow to $58 billion by 2015. Worldwide, the cleaning industry is projected to be $144 billion by 2015. In addition, JAN-PRO's name recognition in the marketplace provides you with a strong brand image.
Depending on the franchise plan selected and the amount of cash provided as the initial fee, discounts of up to 20% are available for qualified military veterans. In addition, veteran franchisees will be eligible for VetConnection Vouchers which will be redeemable on JAN-PRO approved cleaning equipment and supplies.
Want to know more about JAN-PRO Cleaning Systems Franchise? Please submit the form below.