A REASON TO SMILE
Proudly established in 2008 in UAE, Desert Chill is a premium ice cream that proudly produces offers a unique, millennial and convenient experience, bringing joy to thousands of people by its Flagship ice cream parlours, Kiosks, Exquisite Ice Cream Trucks, Tri-scoopers, Satellite Points of Sale, Catering to large public events, intimate family gatherings, weddings, and various celebratory parties.
Whether it is partnering with Schools or Corporate Offices, Desert Chill promises to deliver an unbeatable experience that can be enjoyed and loved by children, youngsters, adults and all the young at heart people.
Desert Chill has been committed to servicing UAE loyal customers via daily rounds, delivering directly to their residents, and making ourselves available at a wide range of events To date, our operation has safely delivered an excess of 2 5 Million Ice Cream products and has exponentially grown year after year.
To achieve such a feat, we continue to focus on four fundamental pillars to success, Safety, Hygiene, Reliability, and Customer Service, in addition to our introduction of flagship parlours, kiosks and tri-scoopers to cover not only UAE but to be GCC market leader in premium Ice Cream.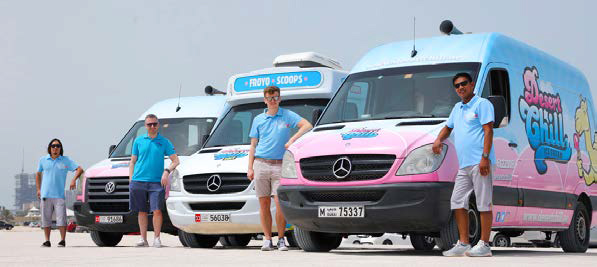 GENUINE AUTHENTIC MOMENTS
With over 30 flavours using the finest natural ingredients, Desert Chill Ice Cream is a breakthrough gourmet adventure inspired by Arabian Sahara experience with its exquisite taste and crafted to deliver a joyful customer experience Our fun-filled parlours, kiosks, trucks and tri-scoopers are enticing environments where customers of all ages and nationalities can enjoy special moments with family and friends the right formula for happy indulgence or a regular sweet treat.
INNOVATION CREATIVITY
From kids favourites to millennials original creations and scrumptious toppings, to regional specialities, homemade bakery items, and sauces, our business formats from flagships to ice cream trucks of
fer an endless array of delicious possibilities catering to walk-in guests, special events, entertainment centres and corporate/regional functions.
We are relentlessly in search for the highest quality ingredients so that customers can rely on that chilling and exquisite taste, and we're continuously developing new creations whether in our ice cream range, crepes, wafhes, desserts milkshakes to truly reflect special moments and seasonal tastes.
OUR MISSION STATEMENT
"Desert Chill Ice Cream will be the Premier Traditional Ice Cream parlours, kiosks, Van and tri-scooper Service in the GCC offering a variety of quality traditional, yet innovative products delivered with the highest standards of customer service and safety We will provide profits and growth to investors and stakeholders and will deliver those profits and generate growth responsibly."
AN INTENSE CREAM EXPERIENCE
We're passionate about inspiring our customers to experience a new texture of ice cream and desserts at an inspiring level.
Desert Chill ice cream flavours feature premier inclusions and colourful ingredients, as we also offer an extended menu of crepes, wafhes, homemade bakeries, banana split, doughnut ice cream, soft serve, push pops, milkshakes, wafhe cones and our unique roasted coffees.
Nothing beats the aroma of freshly baked crepes at Desert Chill cream parlour, and we bake them in our stores on a daily basis.
Our Franchise model focuses on genuine and authentic tastes, using the best ingredients from around the world for an authentic taste.
The quality of ingredients, combined with our innovation and passion for ice cream, creates this unique texture and intense, long-lasting experience.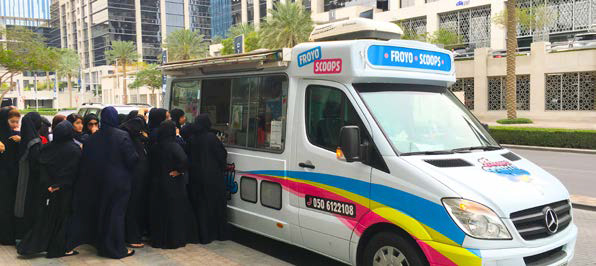 OUR BUSINESS MODELS
Exquisite moments in our ice cream scoops, a topping or flavour away at our visually appealing parlours and vans.
With our unique and contemporary packaging, relaxing music, and friendly colleagues ready with recommendations, we created a a wonderful experience that suits everyone and at all ages.
Each business unit is scalable, from our flagships to vans, kiosks and tri-scoopers, ranging from 15sqm for a kiosk and reaching 70sqm for a flagship store Additionally, we provide catering for events as well as a satellite kitchen an easy to use online ordering application for your ice cream adventures, wherever you are.
All of our units are equipped with state of the art ice cream freezers for gelato, soft serve, sticks and push pops to form renowned kitchen manufacturers, meeting the highest standards for insulation, cooling, and heating.
FLAGSHIP
MAIN CITIES
MAJOR MALLS
1 FLAGSHIP PER CITY
VAN
EVENTS
BIRTHDAYS AND GATHERINGS
BEACHES AND OUTDOORS
KIOSK
STRIP MALLS
COMMUNITY MALLS
STREET MALLS
MOBILE KIOSKS
ENTERTAINMENT CENTRES
MOVIE THEATRES
KIDS CLUBS
MINI CARTS
CORPORATE EVENTS
OFFICES
OFFICE BUILDINGS
TRI SCOOPER
MINI ENTERTAINMENT AREAS
WATERFRONTS
CORNICHE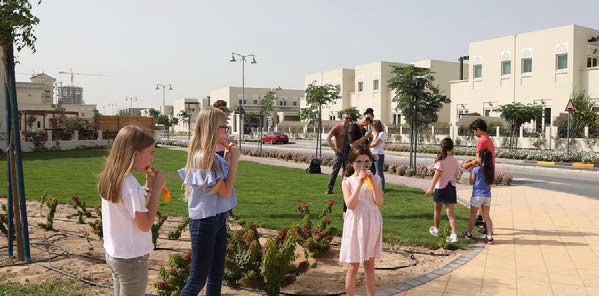 OUR GOAL
Our goal is to provide a fun and creative platform for business that enables partners to both continue to capitalize on our first manoeuvre advantage across the region and wealth of experience and knowledge.
We want to deliver high quality products, with fantastic service, high standards of Health and Safety ( and ultimately provide FUN across International markets.
We will provide our Franchise Partners with:
The know how
HSE Excellence (HACCP)
Ops manuals systems
Extensive support
Launch training
Strong strategic partnership
FINANCIAL REQUIREMENTS
FRANCHISE FEES
The initial franchise fee is allocated as follows:
Flagship USD 25,000 • Ice cream Truck USD 20,000
Mobile or Fixed Kiosk USD 15,000
Tricycles Free of Charge for the operating period
The above is per for an individual unit multiplied by the number of assigned parlours per territory, with the below payment terms:
Initial Payment 10% payment along the LOI
2nd Payment 40% of the total area franchise fee upon signature
Balance Payment 50% to be settled upon the opening of each of the parlours
Overall investment starting from USD 15 000 for a fully Equipped tricycle and reaching a maximum of USD 110 0000 for a flagship ( fit out, signage, equipment, decoration, furniture).
Royalty Fee 5% of Gross Sales
Marketing Fund 1% of Gross sales to International markets to be spent by the Franchisor
Advertising Fees 1.5% of Gross sales on local advertising to be spent by the Franchisee
FINANCIAL PROFITABILITY
We have set up the franchise, and the scalable concepts to achieve an average
Gross margin of 77% and an EBITDA range between 24% and 28%.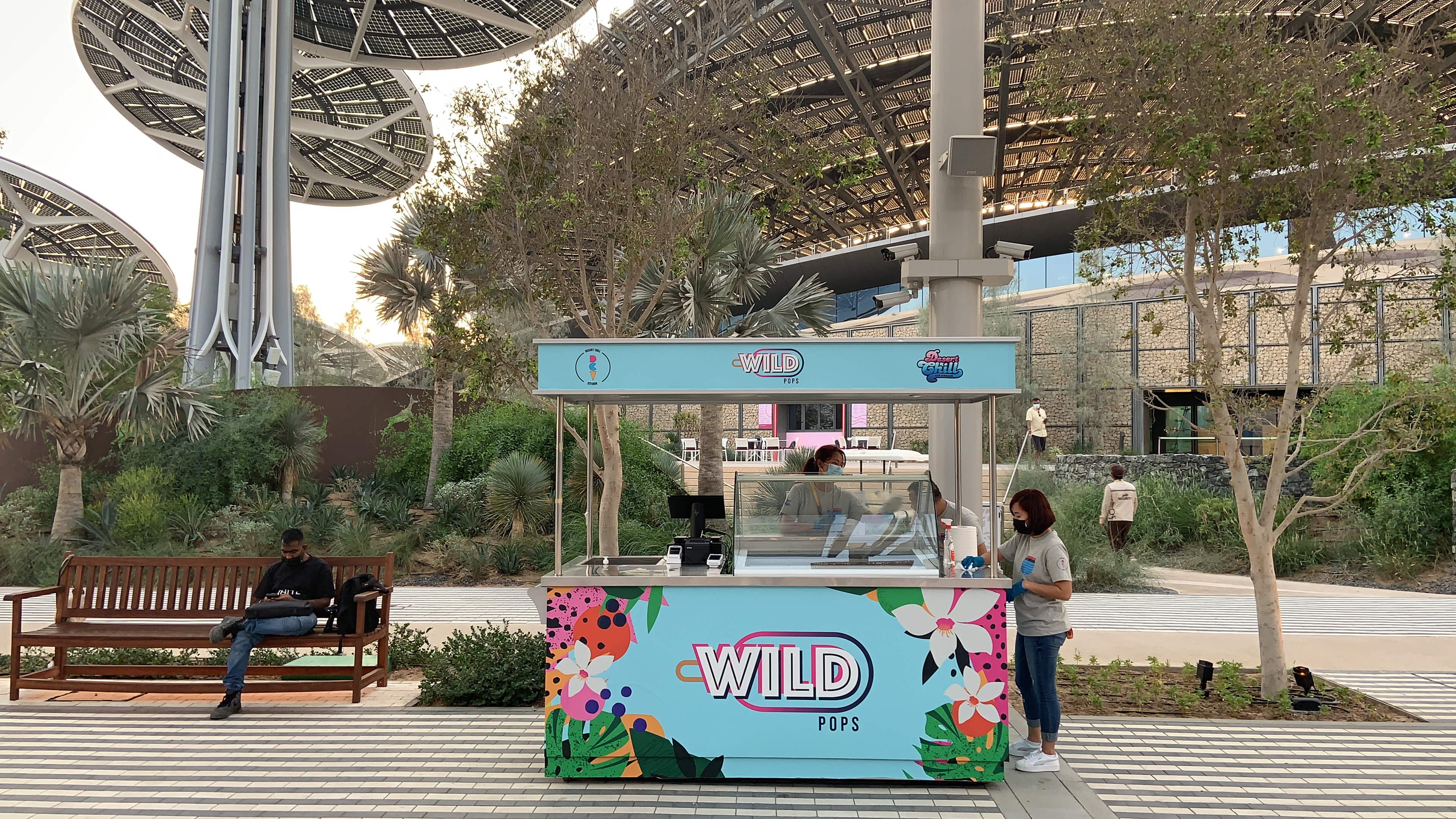 A PARTNERSHIP
Enjoy a level of consistency and quality that builds customer confidence in the brand.
Provide a unique offering in the industry, full of creativity and engagement. Experience a complete support system that will ensure a successful enterprise.
OUR FRANCHISE SUPPORT
Trademark License
Signage Guides
Furniture List
Operations Manual
Training Program
License to Operate
Contractors Requirements
Centralized Sourcing
Operational Forms
Financial Model & Forms
Retail De- sign Pack
Kitchen Equipment Sourcing Support
Brand Guidelines
Recipes
Ongoing Support
Installation Pack
POS System Support
Marketing Guidelines
Media & Website Guidelines
Operations Assessment Visits
OUR EXPANSION
UAE
SAUDI ARABIA
QATAR
KUWAIT
BAHRAIN
LEBANON
INDIA
MOROCCO
TUNISIA
TURKEY
Want to know more about Desert Chill Ice Cream Franchise? Please submit the form below.